Free Games in Italian


Print and play free board games!
You will need to have Adobe Acrobat Reader installed on your computer in order to print and view the games. If you don't have Acrobat Reader, you can download it here for free.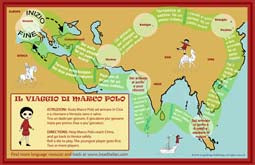 Il Viaggio di Marco Polo - Italian board game
---
Easy board game in Italian with English instructions.
IL VIAGGIO DI MARCO POLO is a free board game that you can print at home
in minutes.
You just need a printer, paper, and tape.
The file is a PDF that can be opened with Adobe Acrobat Reader.
When you open the file, just click print. You will print 3 pages: tape together the 2 pages of the game. The third page contains instructions and the game pieces
that you can cut out and use for playing.
For best results, print on cardstock or heavy paper and then laminate it or cover it with transparent contact paper.
Language: Italian (with instructions in italian and in English).
Ages: 3+
File size: 618KB
To open the file, click on the image above.
No registration or personal information required.